Posted on
By Carl Lemelin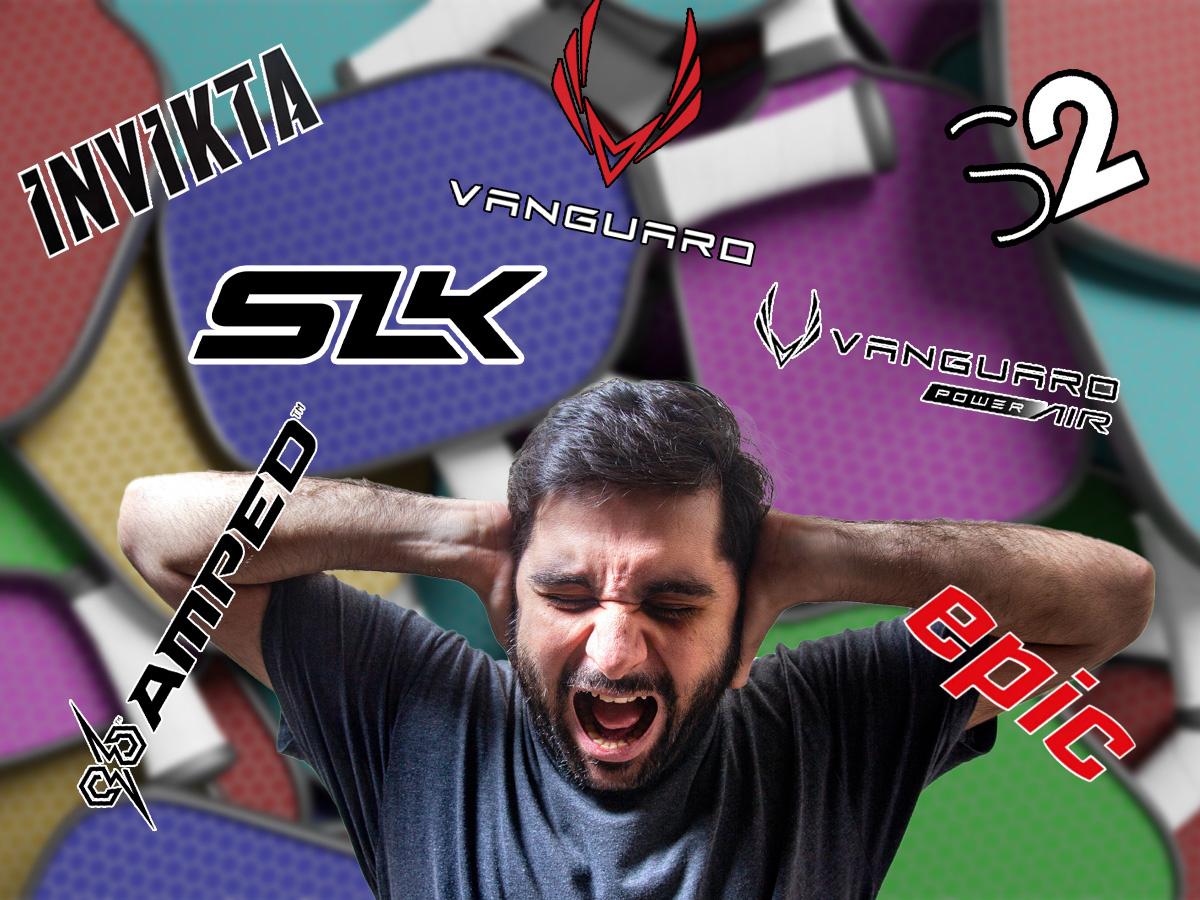 Amped, Mach6, Invikta, what does it all mean? Confused by all these Selkirk paddle brand names? We clear it all up for you.
Selkirk is one of the very best pickleball manufacturers, and our number one selling brand of paddles. They have been making paddles since the sport was invented, and constantly seek to be at the forefront of innovation in their paddle designs.
Consequently, many different series and styles of Selkirk paddles have been developed over the years. The manufacturer is very aware that there are many types of pickleball players out there who need a paddle that's perfectly adapted to their game.
Whether you are a beginner or experienced player, at the recreational level or a pro, an aggressive power player or a finesse control player, Selkirk's mission is to develop paddles that provides every player the best possible combination of power and control to suit their game.
We understand such a wide array of paddles can also be the source of confusion for consumers. Paddle technology can be very technical and convoluted, especially a collection as complete as Selkirk's.
With this blog, we attempt to explain and dumbify Selkirk's wonderful world of paddles.
SELKIRK'S FOUR PRIMARY SERIES
Always keeping in mind Selkirk's motto of offering the best possible combo of power and control in every paddle, the company's designers decided to give each of their series a general theme. Selkirk offer four primary series: Vanguard Power Air, Vanguard 2.0, Amped, and Luxx; and a few more in a collection they named SLK, of which we carry two: Evo 2.0 and Halo.
VANGUARD POWER AIR: This series is Selikirk's most technologically advanced. It features all the latest advancements in materials and design that Selkirk engineers have developed in collaboration with top pickleball pros. You will therefore find Power Air models designed by renowned pickleball pro players. These paddles will jump at you on our display walls due to their sleek, modern appearance. Power Air paddles are edgeless and feature Selkirk's Air Dynamic Throat, a gap at the paddle's throat that helps create more speed and better control. This is Selkirk's ultimate performance, speed and control offering.
VANGUARD 2.0: The Vanguard line is Selkirk's standard high-end paddle series. It is equipped with all the top-end Selkirk technology, but in a more conventional package than the Power Air.
AMPED: This is the series that put Selkirk on the map as pickleball's top dog. They state that before Amped came along, paddles were made for either power or control, not both. Amped paddles all represent Selkirk's effort to change the game by striving to combine both these essential elements of the game into one essential tool, your paddle.
LUXX: The latest addition from Selkirk, this series is designed to fill what the manufacturer calls a gap that has emerged in the industry. Indeed, it seems that the efforts in paddle design in recent years were more focused on the power game. The all-new Luxx Control Air paddles reappropriate the latest advancements from the Vanguard Power Air series (including its avant-garde design) to apply them to a project aimed at offering paddles specifically designed for balanced pickleball players and those who favor finesse in their game style.
SLK BY SELKIRK
Since Selkirk's four primary series all focus on the ultimate in research and development, they also inevitably feature the paddle maker's most expensive models. The SLK project came along as an effort to offer more affordable options to Selkirk's customers, without compromising on the company's unwavering focus of combining power and control while catering to each player's individual game. Note that both SLK series we carry are available in XL (Extended Reach, for added reach and power) and Max (Maximum Sweet-Spot, for added forgiveness and control) versions.
EVO 2.0: These models are divided into three game-specific families – Control, Power, and Hybrid. Each family is available in the XL and Max options. The five factors that affect the level of control or power a paddle provides through design are: paddle shape, handle length, core thickness, face composition, and paddle weight. For each EVO 2.0 family, the XL option provides a slightly longer and narrower paddle face with a longer handle than the Max option. Where each family differs is in core thickness and face composition. The EVO 2.0 Control paddles feature a 16mm core with a G8-Flex Carbon Fiber face, the EVO 2.0 Power paddles, a 13mm core with a G9-Power Carbon Fiber face, and the EVO 2.0 Hybrid, a 13mm core with a C7-Flex Hybrid Fiberglass face. As you can gather from these specs, a thicker core provides more face flex and control, especially when combined with a more flexible face material, and vice-versa. Note also that both the Control and Hybrid EVO 2.0 paddles are midweight (7.6oz to 8.0oz), whereas the Power paddles are heavier (7.6oz to 8.2oz).
HALO: Besides presenting a different, darker look, with classic faux leather grips, the Halo series distinguishes itself from the EVO 2.0 by its two-family composition – Power and Control. The Halo Power paddles are equipped with 13mm cores, whereas the Halo Control paddles feature 16mm cores. All Halo paddles are built with T700 Raw Carbon Fiber faces, which provide extra spin and control for both player types. Halo paddles are also offered in the same XL and Max options as the EVO 2.0 line.
SELKIRK'S PADDLE FACE SHAPES
This is where most customers can get very confused with all of Selkirk's brand names. What you need to separate to properly understand the Selkirk paddle map is their series brand names – which we just explained above – and their face shape brand names.
All three primary series of Selikirk paddles are available in three primary paddle head shape: Epic and S2 (standard head shapes, less than 16" long and less than 8" wide), and Invikta (elongated head shape).
We also offer two more of Selkirk's specialty shapes: Mach6 and Omni. Both are elongated head shape styles.
EPIC: This head shape is aimed at balanced players and/or those who use a two-handed backhand stroke, thanks to its 5.25" (long) handle. It features a larger, more forgiving sweet spot with an emphasis on speed and maneuverability.
S2: These paddles' 4.25" handle length provides more consistency to dedicated pickleball players or new players with a ping-pong background. The S2's standard shape also favors speed and agility. It is the shape with the largest sweet spot.
Invikta: The Invikta's trademark elongated shape (16.5" long and 7.375" wide) trades speed and forgiveness for reach and power. It's face's texture also helps provide powerful players with more spin ability. These 5.25" handle paddles are aimed more at intermediate to advanced pickleball players.
Mach6: These elongated-shaped paddles feature the exact face measurements as the Invikta. They are available in lightweight (7.3oz – 7.8oz) or midweight (7.7oz – 8.3oz) models and only offered in the Vanguard 2.0 series.
Omni: Same elongated shapes for these paddles, and also available in lightweight (7.2oz – 7.6oz) or midweight (7.7oz – 8.3oz), but Omni paddles are equipped with a much longer handle (5.875", compared to the Mach6's standard 4.25"), and are only offered in the Amped series.
Remember that when choosing the right Selkirk paddle for your game, you can either choose a paddle that complements your strengths as a pickleball player, or one that helps compensate for your weaknesses. The choice is yours!
To shop Selkirk paddles, click here.
For more help in choosing the proper paddle, visit our Paddle Buying Guide.